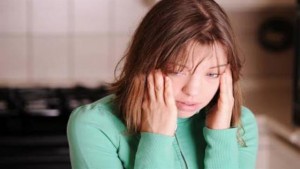 Fibromyalgia is a medical condition in which individuals experience chronic pain and are hyper-sensitive to tactile pressure. Most patients suffering from this condition also feel tired throughout the day, even when they have had sufficient sleep. Other features—which are sometimes, but not always, associated with this condition—include joint stiffness, interrupted sleep, bowel and bladder problems, tingling of the skin, numbness and difficulty in swallowing, palpitations, muscle spasms, weakness of the limbs and nerve pain. Fibromyalgia often has a significant impact on quality of life. Sometimes the source of the problem is anxiety or depression, while, for others, the fibromyalgia itself causes anxiety and feelings of distress. In addition, some sufferers, after a prolonged period of time with this condition, may experience impaired cognitive functioning including: loss of short-term memory, an inability to multi-task, diminished attention span and reduced speed of cognitive performance.
Hypnotherapy has been shown to be valuable in the treatment of this debilitating condition, and this has been backed up by a number of clinical studies (see for example, Picard et al., 2013); certainly, it has been effective in reducing fatigue and increasing patients' ability to sleep at night.
David Kraft has treated fibromyalgia successfully using a combination of psychotherapy and hypnotherapy. He has found that it is helpful for patients receiving treatment also to work alongside a good occupational therapist or gradually to set up a fitness regime with the help of friends. This has to be a gradual process. Most patients suffering from this condition feel isolated at home and find that it is too painful to do any exercise whatsoever. However, if you start with small steps, you will able to begin your rehabilitation. The psychotherapy, hypnotherapy and the support from your therapist and friends will help you with your recovery.