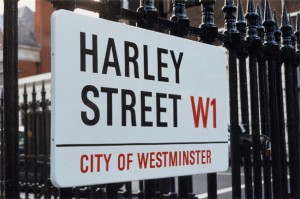 Harley Street is in the heart of the West End in London: for over a hundred years, this street has been known for housing some of the most famous and well-respected medical clinicians. Early records indicate that doctors became interested in working in this area during the First World War, although there is further evidence of doctors' surgeries in Harley Street dating back to the 1860s. In 2015, there are probably over 4000 doctors working in the area; there is also a number of other health professionals including psychologists, osteopaths, occupational therapists, physiotherapists, dentists, nurses, psychotherapists, hypnotherapists and counsellors. Many practitioners set up in private practice and are self employed, although most medics also work for the NHS. There are also clinics in Harley Street: these include, The Harley Street Clinic, The London Clinic, The Harley Street Skin Clinic, London Psychotherapy, The London Cosmetic and Plastic Surgery Clinic, The Harley Street Breast Clinic and many others.
Notable occupants include Former-Prime Minister, William Gladstone; the painter, Joseph MW Turner; the famous speech therapist who help George VI with his voice production, Lionel Logue; Sir Grantly Dick-Read, obstetrician; Sir Stewart Duke-Elder, ophthalmologist; Sir Charles Lyell, lawyer, author and geologist; Allan Ramsay, painter; and many others. Nowadays, the rooms in Harley Street tend to be used as medical consulting rooms; however, in the past, buildings were also used as family homes.
Individuals come from all over the country, as well as abroad, to consult the most well-respected specialist consultants, surgeons and other healthcare professionals in the world; and, inevitably, many of them will be working here in Harley Street.
London Psychotherapy in Harley Street
In 1971, psychiatrist, Dr Tom Kraft, set up a private psychotherapy practice at 80 Harley Street, W1. In 2003, after over thirty years of success, he built up a website called London Psychotherapy. His son, Dr David Kraft, then set up London Hypnotherapy UK in order to complement the work that his father was doing in the field of psychotherapy integration. Both David and his father, however, used the same approach, and this combined psychodynamic psychotherapy with hypnotherapy. David continued to build the psychotherapy practice and, in September 2008, he set up a clinic at 10 Harley Street, W1G 9PF. Tom Kraft died in December 2008, and David continued to build the practice on his own. In 2014, he set up an additional clinic in Enfield Town; the consulting rooms, here, were intended to help individuals who needed specialist treatment but who were unable to pay for sessions in Harley Street.