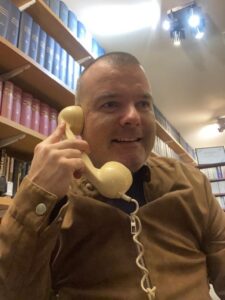 This service was set up during the Covid crisis. During this time, a huge number of people were in desperate need of psychological support. Managing Director and psychotherapist, David Kraft PhD, decided to keep the title of the service simple, using the term 'therapy' to represent the full range of psychological treatment; however, the approach that he uses is one that combines psychotherapy, counselling, behaviour therapy and solution focused brief therapy—that it to say, a multi-modal and holistic approach to psychology. Perhaps, the simplest way to describe this service is 'Telephone Psychotherapy' or 'Online Counselling'.
Generally, he treats clients in the London area – he has a practice in Harley Street – but he also works in and around Enfield Town. However, as his reputation grew, he began seeing clients from all over the world – in the USA, France, Italy, Dubai, Russia and in Thailand. Indeed, there is no reason why anyone from all over the world shouldn't approach David for treatment, either on Zoom, Skype, or by using another media platform. The easiest way to do so is to call him on +44207 467 8564 or on his work mobile which is +447946 579645. Alternatively, you can email him at dmjkraftesq@yahoo.co.uk.
So How does it Work? And How can I Book a Session with David Kraft?
Simply give him a call or email him. He will then give you an appointment slot. Payment is normally made by electronic transfer and in advance of the session.
How many Counselling or Psychotherapy Sessions do I Need?
This is a question that David is asked frequently. The best way to answer this is as follows. All people are different. Some people have a specific psychological problem that they need to deal with, while others need some time to process changes that occur. David never gives guarantees; however, he has had a huge success rate in the treatment of a wide range of conditions and he likes to work as quickly as possible, rather than drawing out the process. The general principle of his approach is that all people are different and require a tailor-made approach to psychotherapy. In the first session questions on the length of therapy, and the approach to be taken, can be discussed.
David Kraft PhD is the Immediate Past President of the Section of Hypnosis and Psychosomatic Medicine at the Royal Society of Medicine; he is an experienced psychotherapist with seventeen years' experience and he is registered by UKCP.
Phone +44207 467 8564 for an appointment today.
Contacting the Therapist by Email
Overseas clients: please email David Kraft for an appointment today. His email address is dmjkraftesq@yahoo.co.uk
Contact Numbers for UK and International Clients:
1. 0207 467 8564 (in UK) 
2. +447946 579645 (for anyone outside the UK)
3. 07946 579645 (UK work mobile number; +447946 579645)
David Kraft: Affiliations
David Kraft PhD
Immediate Past President, Section of Hypnosis & Psychosomatic Medicine, Royal Society of Medicine
Registered UKCP Psychotherapist
Addresses for Correspondence
10 Harley Street
London
W1G 9PF
UK

Flat 70, Cosmopolitan Court
67 Main Avenue
Enfield
Middlesex
EN1 1GD
Useful Tags for Reference:
#psychotherapythailand #harleystreetonlinetherapy #psychotherapythaiexpats #harleystreetcbt #psychotherapyqatar #harleystreetdoctor #hypnotherapyonline #psychotherapyonline #integrativepsychotherapy #davidkraft #londonhypnotherapyuk #londonpsychotherapy