How to find Enfield Psychotherapy & Hypnotherapy 0207 467 8564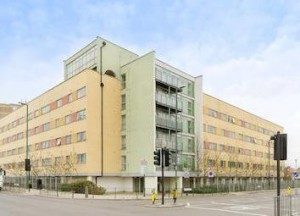 The entrance to Enfield Psychotherapy (see above)
Address:
Enfield Psychotherapy & Hypnotherapy
70 Cosmopolitan Court
67 Main Avenue
Enfield
EN1 1GD
Enfield Psychotherapy and Hypnotherapy is a registered clinic for psychological treatment, and the therapist offers counselling, psychotherapy as well as hypnotherapy. The clinic is run by psychotherapist, David Kraft PhD. The Enfield clinic is easy to find. However, some people have had problems finding the place on the first session. The building is called Cosmopolitan Court and this houses a number of offices and flats. It is painted in a number of colours –  terracotta reddish-orange, buff yellow, pistachio green and white. The building is on the corner of the A10 (the Great Cambridge Road) and Main Avenue. The problem is that a lot of people who rely on satellite navigation get lost and the reason for this is that the technology often takes them to the local primary school or Ayley Croft. This is not too much of a problem because these locations are just around the corner, but it can be misleading.
This is how to find Enfield Psychotherapy. Go along the A10 towards Edmonton and turn right at the Travel Lodge. Cosmopolitan Court is directly opposite the Travel Lodge. When you arrive, please press number 70 and hold down the call button. If you arrive early, the concierge will let you in, unless he is doing jobs around the site. The concierge only works Monday to Friday 9am-6pm.
To look at a video of how to find my clinic, please clink on the following link: