What is a School Street and how does this help to Reduce Stress and Anxiety for Teachers and Parents?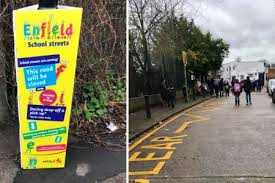 Two weeks' ago, two 'school streets' opened. So what is a 'school street'? A school street is when the roads surrounding the school close. This means that the whole of the area surrounding the school is free from traffic; as a result, when parents come to pick up their children from school, there is reduced pollution and there isn't nearly the same amount of stress and anxiety. In most areas in north London, parents drive as close as they can to the school at pick up time: this causes pollution and congestion. In fact, many teachers point out that it can become dangerous on the streets with so many cars on the road. However, this is not the case in a 'school street'. From Monday to Friday, during term time, only pedestrians, cyclists, permit holders and residents are allowed in the roads immediately adjacent to the school. So far, there are two schools which have signed up to this new scheme in the Borough of Enfield – namely, Oakthorpe Primary School, Palmers Green, and St Monica's Catholic School near Southgate.
These schemes help to forge a more harmonious atmosphere in the local area, and they are extremely important to both children and parents. They also help to reduce stress for local teachers who are duty outside the school at the end of the day. The idea is that pupils also take up other forms of active travelling – cycling, walking, jogging and so forth. This scheme has all sorts of benefits for well being and the environment. Indeed, Climate Action Enfield is making further plans to reduce carbon monoxide in Enfield. As a psychotherapist, I often meet parents and teachers who are plagued by stress and anxiety particularly when it comes to home time. Many parents have to leave half an hour early in order to pick up their children. And teachers who are on duty—and this includes form tutors in the primary school setting, who cannot leave until they know that all their pupils are safe—really suffer at the end of the school day. This causes stress and anxiety at a time when teachers should be recovering from a hard day's work. This new scheme is an excellent attempt to remedy this situation, and it is hoped that similar 'school streets' will appear in the rest of the Borough of Enfield.
Appointments: 0207 467 8564 (General Enquiries) 07946 579645 (Work Mobile)
Enfield-based psychotherapist, David Kraft PhD, offers reduced rates for teachers. For more information on counselling/psychotherapy for teachers, click here.
#EnfieldPsychotherapy #enfieldcounselling #enfieldpsychologist #enfieldpsychotherapist #MINDinEnfield #mentalhealthenfield #anxietyenfield #psychologicalhelpinenfield #psychologicalsupportfornursesnorthlondon