Racism and Psychological Issues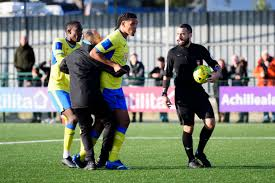 In the recent edition of the Enfield and Haringey Independent, an article presented the images of three football fans who were racist during a match between Haringey Borough FC and Yeovil Town. So far two men have been arrested on suspicion of racially-aggravated common assault. In fact, during the 64th minute the match had to be abandoned as the players walked off the pitch. Anyone who was at the match who has information about these three men should contact the police quoting the reference CAD 5272/19 Oct. At the second match, which was arranged to settle the score, the Haringey manager, Tom Loizou, told BBC Sport:
"You saw the type of people who come out and support this club tonight and the fans sung their hearts out, nothing abusive about it…There's no room for racism. All you need to do is come down here, watch a game and see how our fans acquit themselves and people should take a leaf out of our book."
In this day and age, we are, more than ever before, experiencing racial inequality, prejudice and racist behaviours. Racist behaviour is particularly common in north London—in, say, Tottenham, Haringey, Enfield, Southgate and Edmonton—where there is a huge range of ethnicity. This can cause psychological problems not only at work but in one's social life. This incident is a clear example of how some people discriminate against others because of the colour of their skin; and, in the first football match, the insults were so damaging that on-lookers were unable to tolerate their behaviour. Some people are bullied or abused due to the colour of their skin, and this can cause depression, anxiety, psychosomatic pain, sleep loss and a range of other psychological problems. If you are a victim of racial abuse and need some counselling or psychotherapy, please ring Enfield Psychotherapy on 0207 467 8564. This clinic, run by psychotherapist, David Kraft, is one of the leading practices in north London.
#EnfieldPsychotherapy #enfieldcounselling #enfieldpsychologist #enfieldpsychotherapist #MINDinEnfield #mentalhealthenfield #anxietyenfield #psychologicalhelpinenfield #psychologicalsupportfornursesnorthlondon
Enfield Psychotherapy Link:
https://www.londonhypnotherapyuk.com/glossary-enfield-psychotherapy/
Enfield Counselling Local Link:
https://www.londonhypnotherapyuk.com/glossary-enfield-counselling-and-hypnotherapy-local/
David Kraft PhD
Registered UKCP Psychotherapist
Flat 70, Cosmopolitan Court
67 Main Avenue
Enfield
Middlesex
EN1 1GD
0207 467 8564 (General Enquiries)
07946 579645 (Work Mobile)